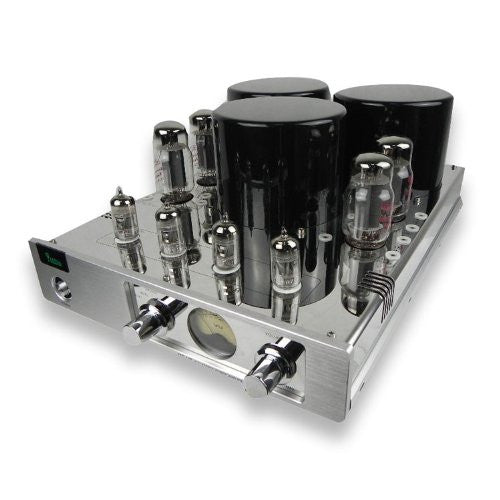 YAQIN NEW MC-13S EL34(6CA7)X4 Vacuum Tube Hi-end Tube Integrated Amplifier Push-Pull Silver
This latest enhanced version Class A tube amplifier is based on MC-10L, but with
4x 12AT7 tubes in preamp section, either EL-34 or 6CA7T in final stage and serious enhanced circuitry, an excellent machine, ideal for HiFi purists, tube rollers, savers and budget buyers comes with high quality components and offers the following features:
Class A push-pull circuit for reduced distortion
Ultra linear push-pull circuit providing greater output power
SRPP circuit design in pre-amplifier section
ULPP circuit design in power amplification
Convenient BIAS control and adjustment via external testing sockets and potentiometers easy accessible on top panel of amp
4x EL-34B or 4x 6CA7T tubes in final stage, export version
4x 12AT7
High-end output transformers based on Japanese audio grade silicon steel sheet in thickness 0.35 mm and high-quality enameled wiring responsible for wide frequency response and dynamic range at full rated output
Audiophile High-end electrolyte MKP capacitors as well as high quality metal precision resistors
Imported high-quality low noise and durable potentiometer as volume controller
Volume meter
Detachable power cord
Heavy duty chassis with top in stainless steel, steel bottom and front panel as well as bezels in aluminum.

Technical Data
Output Power:
Frequency Response:
THD:
S/N:
Input Sensitivity:
Input Impedance:
No. of Inputs:
Output Impedance:
Tubes:
Power Supply:
Power Consumption:
Color:
Dimensions:
Weight:
2x 40 W on 8Ω
10Hz - 76KHz ± 2dB
≤0.9% at 28 W
≥85 dB, Class A
≤ 260 mV
20 kΩ
4 groups
4Ω, 8Ω
4x EL34-B or 4x 6CA7T, 4x 12AT7
AC 110; 120V; 127V / 60 Hz or 220; 230; 240 V / 50Hz
220 W
Body silver, front panel silver or black/silver, transformers black
470×315×1175 mm, W x D x H
approx. 19 kg net, approx. 21 kg gross

Brand-new, original packing, once opened for check and short test, including the following items:
1 amplifier, 1 power cable, 1 hex screw driver for BIAS adjustment, 1 original operating manual.