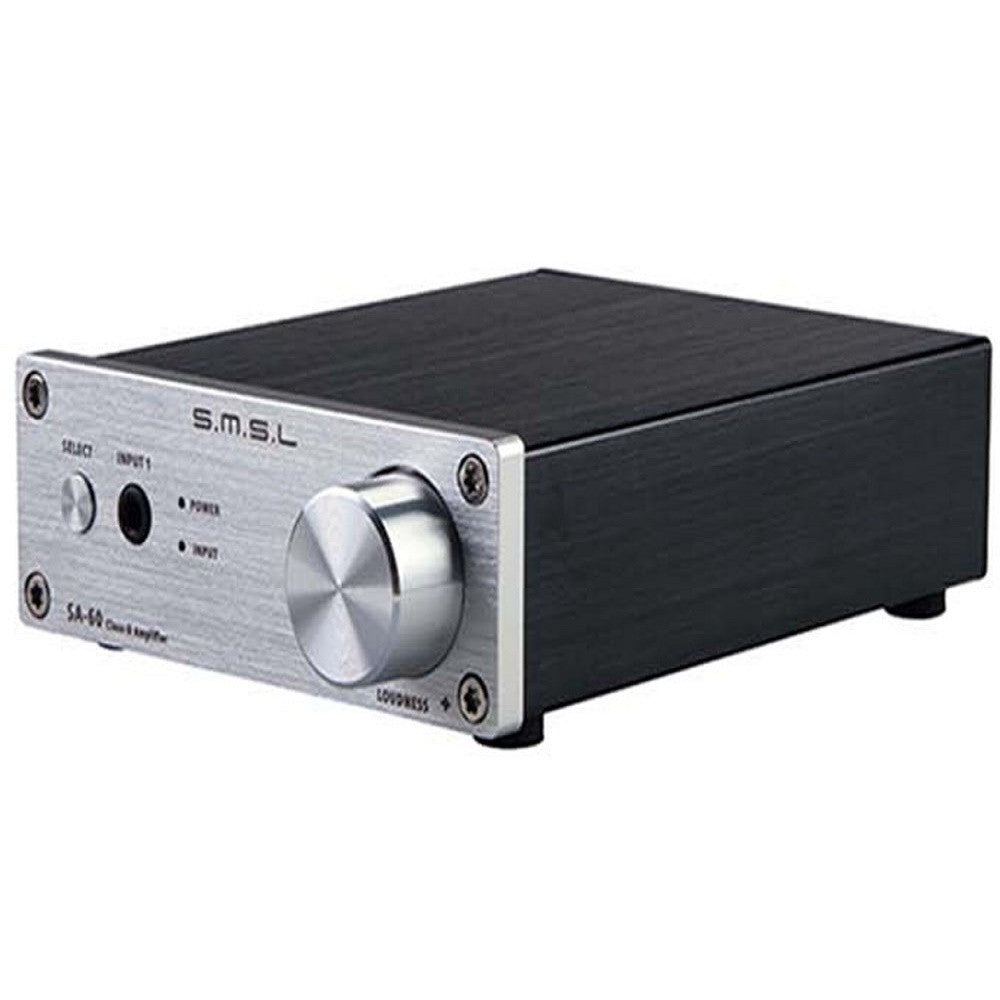 SMSL SA-60 60WPC TPA3116 Class D Digital Amplifier HiFi Air Core Inductance Desktop Amplifier
Description
The SA-60 is an Class-D amplifier especially design for desktop Hi-Fi system.

SA-60 has passed reliability tests. Constant temperature and humidity testing (temperature: 0-45 ℃; Humidity: 80%; Time: All 4H).
SA-60 is based on Texas Instruments (Texas Instruments) TPA3116 as the core, using the EPCOS · Panasonic · nichicon · TI · AV accessories and other high fever, refined, high-quality digital amplifier. Advanced aluminum enclosure, drawing oxidation process, laser engraving screen printing and other processes. The use of the materials adhere to the double wooden Salim electronic usual style, "" absolutely original · absolutely authentic.
About Volume Control :
The volume use the rotary encoder to control the volume, Rotate Clockwise to increase
volume, Anticlockwise to decrease.
If the SA-60 work as a pure amplifier, just turn the volume to MAX.
The SA-60 has the memory for the volume, and it will limit to a fixed value if the volume is too
high when start up.
About LED :
The LED Up:
RED Power OFF
GREEN Power ON
RED+GREEN Power ON + Loudness ON
The LED Down:
RED 3.5mm input
Green RCA input
About output :
The SA-60 use the BTL connection way. So the "Speaker-" terminal cannot swap or
connect to the amplifier housing.
Features:
A. Support 2 inputs, RCA input jack and 3.5mm headphone jack input.
Flexible and easy to connect a variety of the latest audio equipment, computers, cell phones, players, etc.; Input with memory function, human-computer science design. A multi-function machines to use.
B. MCU control, easy to understand.
Easy operation and human-computer science feature set, more suitable for modern habits and personal safety protection. MCU will be based on the working status of the machine, real-time monitoring, always protected.
C. 360-degree rotating electronic volume control.
Boot volume settings can prevent excessive damage to the startup sound a horn or damage to personal safety, to prevent noise, imbalance and other undesirable phenomena caused by poor contact potentiometer.
Parameters:
Output Power: 55W + 55W (8 OHM @ 10%THD+N)
THD+N : <0.1%
SNR: >100dB
Crosstalk: <-100dB (1KHz)
Frequency Response: 20Hz – 20kHz (-3dB)
Max Gain: 37.5dB
Power: DC18V – 24V
Speaker Impedance:3 OHM – 16 OHM
Dimension: 148 * 97 * 32 mm
Weight: 1kg
Package:
SA-60 Amplifier * 1
User Manual * 1
Power Supply * 1