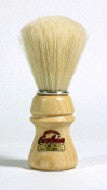 Semogue 1250 Bristle Shaving Brush
Made by SEMOGUE, the Shaving Brush has been manufactured for many decades. It maintains a strong handcrafted component, so that the quality and excellence of the product is never lost.
The Semogue 1250 bristle shaving brush has a neutral oak wood handle and the hair is made with the finest quality pure bristle.  This all around shaving brush is great all around brush, perfect for both bowl and face lather. As most bristle brushes, it will need a break-in period, which is usually quite fast with this brush.
The knot has a 24 mm diameter and 53 mm height. The handle is 57 mm tall and has 37 mm in its widest point. The beautiful wooden handle is made of ash wood.
Product Details:

- Engraved Oak Wood handle
- Bristle Hair - White Best 90% Tops
- Knot: 22 mm, Loft: 55 mm
- Handle height: 53 mm