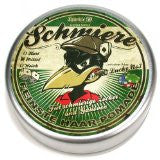 Rumble59 - Schmiere - Special Edition - Gambling
"

Schmiere" (read: shmeereh) means "grease" in german
"Schmiere - Pomade medium" for medium and crooks and sleazy zocker - for your "feathers" always staying gorgeous and keeping their shape!
Finest hair pomade from Rumble59
- Special Edition "Gambling" -
Just in time for the 7-year-old shop premises of our existence, we take great pride in our Jubiläumspomade in our assortment.
The middle stop and smell of coconut leaves, the milky white goo to ascend to your safe Lieblingspomade quickly.
Content: 140ml