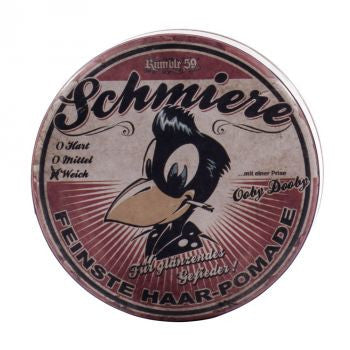 Rumble59 - Schmiere - Pomade brilliance/ light
"Schmiere" (read: shmeereh) means "grease" in german
The
Schmiere "brilliance/ light"
is perfect for light hold and glossy feathers - for your "feathers" always staying gorgeous and shiny!
Finest hair pomade from Rumble59 lives up to its promise!
Schmiere brilliance/ light is one of the most popular kinds of Schmiere. From now on it appears in a brandnew coat:
The expressive likeness of the Schmiere raven looks from a completely printed tin can.
Unique quality - Proven 140 ml content - Brandnew tin cans.
Yiiieeeehhhhaaaa! There's Rock'n'Roll on my turntable, I've got Rock'n'Roll in my feet and now I've got Rock'n'Roll even on my head! Thank god for the new Rumble59 Schmiere!
The "Schmiere - Pomade brilliance/ light" has a light hold. Its colour looks like berries, it smells fruity and reminds a little bit of raspberries and wild berries. The secret is the shot of "Ooby Dooby" which brings this one-and-only specific brilliance.
Made in Germany - Delivered in Schmiere's new tin can.