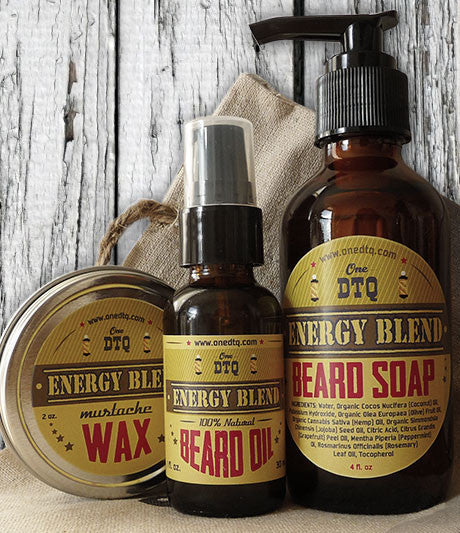 ONE DTQ- BEARD CARE GIFT SET: ENERGY BLEND BEARD WASH (4 FL OZ), BEARD CONDITIONING OIL (1 FL OZ) AND MUSTACHE STYLING WAX (2 FL OZ)
Beard and Mustache Care Gift Set includes all-natural Energy Blend beard wash, Energy Blend beard conditioning oil and Energy Blend mustache styling wax. The Gift Set comes packaged in a rugged gift bag.

Made with organic and natural ingredients Energy Blend Beard Care Gift Set makes a perfect gift for your man. The essential oils used in these products will give a boost of energy to his morning grooming.

Energy Blend beard wash 4Fl. Oz. leaves the beard, clean, fresh, soft and healthy.

Energy Blend beard conditioning oil 1 Fl. Oz. lubricates, moisturizes and heals dry skin and red patches beneath the facial hair. Great for beard grooming, mustache and goatee care.

Energy Blend mustache styling wax 2 Oz. grooms and controls the facial hair. It lasts all day in any weather.-

How do essential oils work on our bodies and emotions?

Smell is our most powerful sense, connected to the limbic system in the brain and instantly recognized by the body. The aromas of essential oils have the power to re-awaken and stimulate the limbic system and have been used throughout recorded history for a wide variety of wellness applications. Essential oils can increase your sexual energy, boost your body energy, improve your mental clarity or promote a feeling of relaxation.