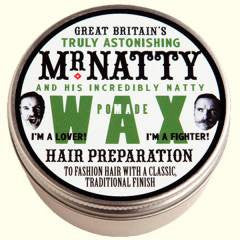 Mr Natty Wax Hair Preparation
NATTY SAYS:
Mr Natty's Pomade Wax Hair Preparation is a light pomade wax, with a delightful hint of Parma Violets (remember those?). Mr Natty finds it perfect for keeping his hair in place while engaging in recreational activities: driving an open-top sports car to Monte Carlo; ski-ing in St. Moritz; smiting uncouth ruffians in The Dog and Duck.
NATTY DOES:
This is a high-shine classic pomade, perfect for short back and sides as it offers a tight hold for your hair. When applying to your barnet start with a small amount and use more as you need it. For a classic, true rocker style comb it through with a wide toothed comb. Never use a brush, the comb moves easier through the hair makes it easier to style and finish. Our Pomade Wax washes out easily just apply shampoo to dry hair before you put your head under the shower. It loosens the product out so its easier to rinse away.
THIS PRODUCT IS MADE IN ENGLAND