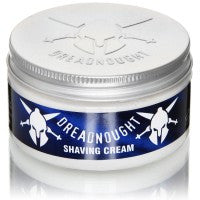 Dreadnought - Luxury Shaving Cream (100 ml)
Dreadnought was developed for use by problem shavers – those testosterone charged men for whom the toughest of stubble is an everyday fact of life.

Dreadnought not only contains the finest ingredients you would normally find in a premium shaving cream but also features a miracle ingredient called Decelerine – a scientifically proven marvel that within a few months use actually reduces the appearance of hair which in turn makes your shave closer and more comfortable.

Dreadnought uses totally recyclable packaging and is also totally devoid of the thought to be possibly nasty chemical preservative Paraben. Enjoy the best shave of your life with a clear conscience and no fear!