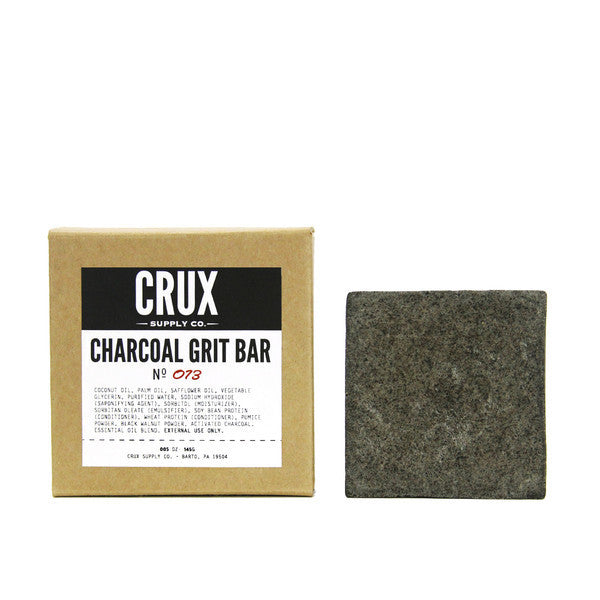 CRUX Supply Co. Charcoal Grit Bar
There's True Grit and then there's just grit -- 
that man-scented film of dirt that slanders the skin of even the kindest gentleman.
Show that scum who's boss with our charcoal grit bar; a serious body bar that combines the exfoliating power of pumice and black walnut shell power with the toxin-busting properties of charcoal. Use all over the body --including face and hands-- and enjoy the fresh scents of cedar wood, clary sage, and lime.
CRUX SUPPLY CO. PRIDES ITSELF IN USING ALL NATURAL & ORGANIC INGREDIENTS TO PRODUCE HONEST PRODUCTS FOR AWESOME PEOPLE. MADE IN THE USA.
INGREDIENTS: COCONUT OIL, PALM OIL, SAFFLOWER OIL, VEGETABLE GLYCERIN, PURIFIED WATER, SODIUM HYDROXIDE (SAPONIFYING AGENT), SORBITOL (MOISTURIZER), SORBITAN OLEATE (EMULSIFIER), SOY BEAN PROTEIN (CONDITIONER), WHEAT PROTEIN (CONDITIONER), PUMICE POWDER, BLACK WALNUT POWDER, ACTIVATED CHARCOAL, CEDAR WOOD, CLARY SAGE, & LIME ESSENTIAL OILS. EXTERNAL USE ONLY.
SIZE: 5 OZ.