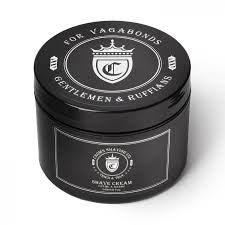 Crown Shaving Co. Shave Cream
A rich, silky cream using only the finest ingredients available. The scent of eucalyptus and spearmint is sure to awaken your senses. This shave cream will provide you with a close, comfortable shave while leaving your skin feeling nourished and refreshed. Can be used with a shaving brush to generate a rich lather or can be massaged onto skin with fingers.
Contains: Glycerin, Shea Butter, Spearmint Leaf Oil, White Tea Leaf Extract, White Ginger Extract, Licorice Root Extract, Olive Leaf Extract, Maritime Pine Bark Extract, Pomegranate Extract, Rosemary Leaf Extract, Cocoa Extract, Grape Seed Extract.