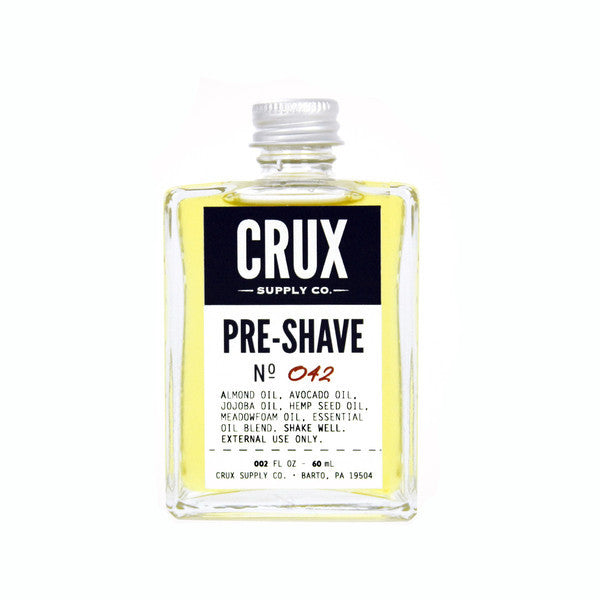 CRUX Supply Co. - Pre-Shave Oil
A trade secret of smooth-skinned men around the globe, pre-shave oil is the way to a clean, close shave.

Sporting our signature scent of rosewood, clary sage, and bergamot, our Pre-Shave Oil blend of ultra-conditioning avocado, almond, jojoba, hempseed, and meadowfoam oils is packed full of vitamins and minerals that lift your whiskers for a super smooth shave, protect your skin and lend it a healthy glow. Before shaving, simply shake the bottle, pour a dime-size amount into your palm, rub your hands, and gently massage the oils into your stubble. 


CRUX SUPPLY CO. PRIDES ITSELF IN USING ALL NATURAL & ORGANIC INGREDIENTS TO PRODUCE HONEST PRODUCTS FOR AWESOME PEOPLE. MADE IN THE USA.


INGREDIENTS: ALMOND OIL, AVOCADO OIL, JOJOBA OIL, HEMP SEED OIL, MEADOWFOAM OIL, CLARY SAGE, ROSEWOOD, & BERGAMOT FCF ESSENTIAL OILS.

SIZE: 2 FL OZ.