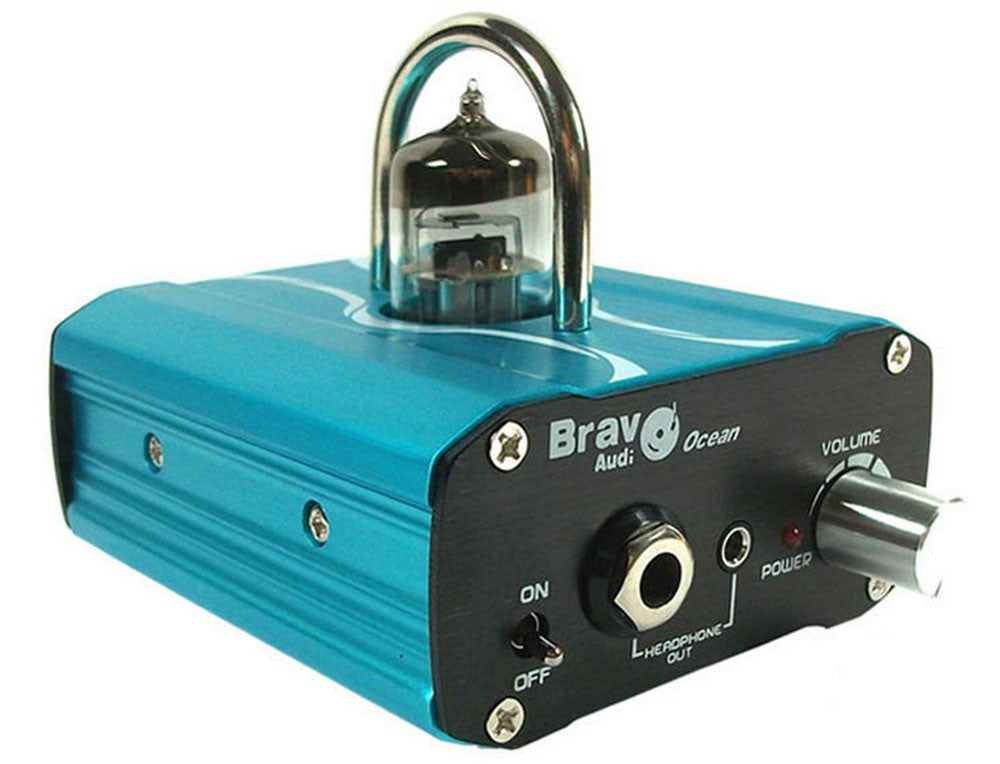 Bravo Audio Ocean Mini Valve Class Tube Headphone Amplifier
This is a beautiful looking Tube Class A Headphone Amplifier with Aluminum case.
Ocean has 2 x input port:
3.5mm jack
RCA jacks

Ocean has 3 x output port :
3.5mm jack
6.35mm jack
RCA jacks

Parameters:
In Put Power: DC24V
Input Sensitivity: 100mV
Input Impedance: 100KOhm
Out-Put Impedance: 20~600 Ohm
Gain: 30dB
Frequency response: 10Hz-60KHz +/- 0.25dB
Signal/Noise Ratio: >90dB
Dynamic range: 84.6dBA(300 ohm) 89.8dBA(33 ohm)
THD: 0.016%(300 ohm) 0.45%(33 ohm)
IMD + Noise: 0.045(300 ohm) 0.42(33ohm)
Dimension: 115mm (D) X 82mm (W) X 78mm (H)
Shipping Weight: 850g



Package:
Bravo Ocean Head-Amp * 1
Power cable with AC wall plug * 1
Brand new Shuguang 12AU7 tube * 1
Switching Power Supply Universal AC 100V-240V / 50~60Hz to 24V DC 1A out put * 1
(Auto-Detect International Compatible)


FAQ:
Q: This Amp only has only 1 Tube, how can I amplifier stereo signal?
A: There are 2 triode in this Tube (12AU7), It's just like dual core CPU in your PC. So both channels were get amplifiered by the Tube.