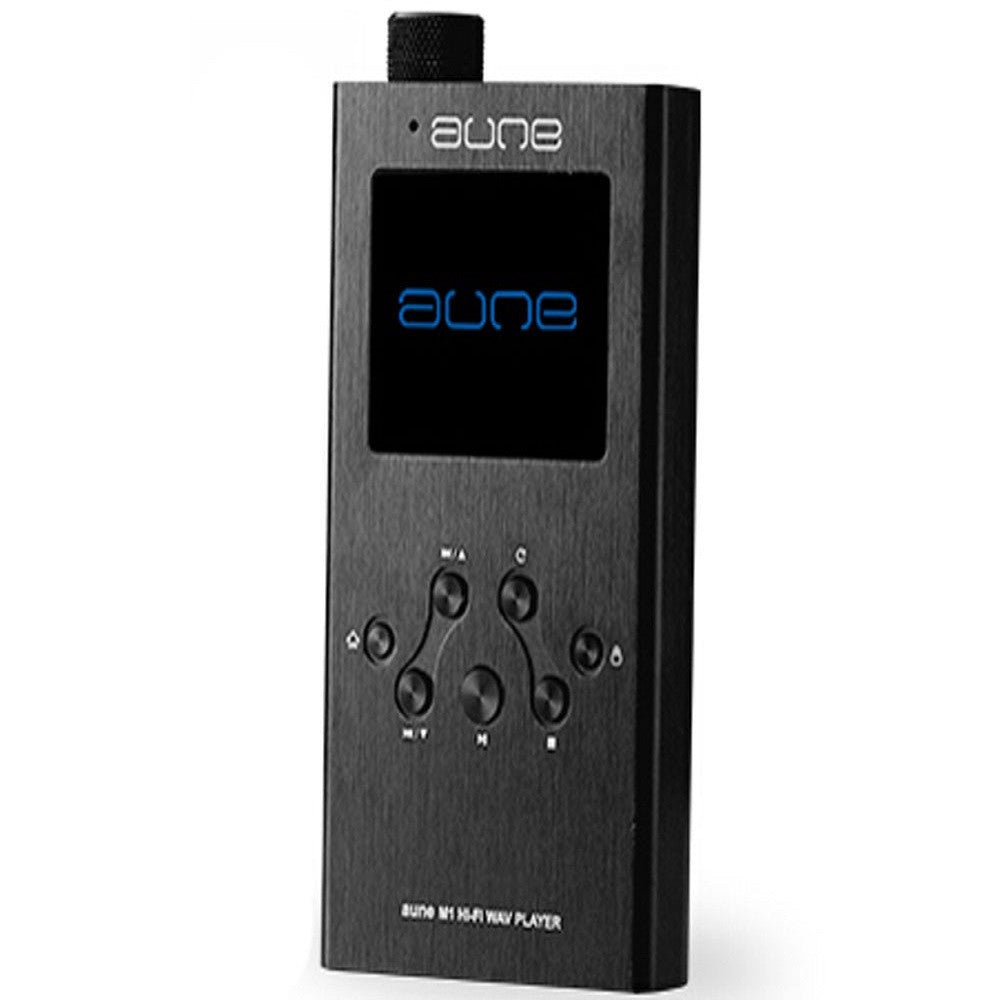 Aune M1 HiFi CPLD Portable WAV Lossless Music Player
Description
The Aune Audio M1 mobile pocketable Hi-Fi music player. The M1 allows for the portable enjoyment of an entire Hi-Fi music collection on the go. With the Use of a standard SD card over 1000 songs in lossless format (wav) can be easily transported and enjoyed.

The Aune M1 is built of the highest quality audiophile components housed in aluminum. The internal software utilizes an asynchronous algorithm and low jitter clock crystal to ensure the highest reproduction and sound quality.


Parameters:
Weight - 6.4 oz (181.44 grams)
Size - X X ( 10.31cm X 5.6cm X 2cm)
Battery Life - 7+ Hours
Charge Time - Less Than 2 Hours
Asynchronous Clock (Nonsynchronous)
Super-low Jitter Clock Crystal
0db Background Noise at Full Volume
Impedance 32 - 320 Ohms
Playback Format - wav only
Output - SPDIF Coaxial, 3.5mm Headphone
Storage - SD card up to 32Gb

Features:

In House Review
The sound quality of the Aune M1 is simply exceptional. Its ability to reproduce a sonically accurate signal from a wav file is second to no other portable lossless music player. Typically the trade off with portability is the sound quality due to the use of low power components that are unable to operate to the potential of a stationary A/C powered unit. The Aune does not exhibit any of the typical shortcomings resulting from inferior components and the sound engineers really took their time ensuring this portable unit can do the job to impress any discerning audiophile.

Craftsmanship
The Aune M1 is built solid from quality aluminum just like their line of desktop headphone amplifiers. The housing is a textured brushed aluminum with black coloring. The styling is sleek and modern with accents in the all right spots creating a very luxurious and high end look.  Buttons on the M1 are solid and have a good responsive tactile feel with very high tolerances with respect to the housing. A large and appreciative volume knob is textured and with its smooth rotation, a pleasure to use. The color screen is 1 3/4" and easy to read. All ports have a high quality grip and feel solid with connecters inserted.

User Interface
A very simplistic and minimalist user interface. As of this review (July 2014), the firmware installed supports only wav files and the UI functions much like a file system, allowing for song selection from pre-sorted file folders and directories on the SD card. While there is no support for playlists and other often gimmicky features commonplace with todays music players, the basic UI is responsive and intuitive without delay or lag. Simply select the folder and press play, the M1 will play all tracks in order without problems or frustration.

Battery
The Aune M1 performed up to the manufacturer's specifications in our test. The UI has standard battery saving features such as screen dimming and display shutoff. Many of the external LEDs are also only illuminated during startup and when needed leaving little to wasted power consumption. There is also a hardwired ON/OFF switch that is not tied into software, so when its turned off, the M1 does not consume energy. During our tests we found the Aune M1 lives up to the manufacturers estimated battery life of 7+ hours with typical charge time of less than 2 hours.